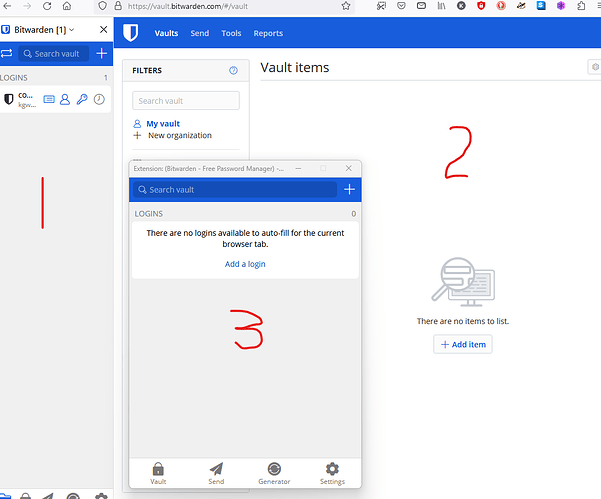 I moved to BW a few days ago as a refugee from Last Pass. I found it easy to import my data but spent a day going through over 400 entries to delete ones that are no longer needed and change the passwords. It was a struggle at first, but I got the hang of it.
I am having trouble getting auto fillin to function but before tinkering with that, I need to better understand the interface on my Windows desktop shown in the image.
Panels 1 and 2 are the browser window with the vault open. Panel 1 and Panel 3 (which pops up when I turn on the extension from the Firefox tool bar seem to be similar although Panel 3 loses the Tab button at the bottom left when you detach it from the fixed position in the open window as I have done in this image.
I would call Panel 3 the extension. What should Panel 1 be referred to as? I can move panel 3 outside the browser, but Panel 1, I think, is fixed where it is shown.
The only difference I see in their function is that when I detach Panel 3 so it can be moved out of the browser window, it loses its Tab button. Why would that be? So far it doesn't seem to limit what I have been doing but I am no doubt missing something.
My notion would be close Panel 1 so it doesn't reduce the browser window and use the Panel 3 browser extension but that means I lose the Tabs button. Will that be all I lose? Will it matter?
When it gets right down to it, what is the advantage of using either of Panel 1 or 3 over just working right in the main vault window, Panel 2?
Thanks in advance for any guidance that helps me climb the learning curve.
Cheers, Ken