Hi, I'm new in Bitwarden and I had some problems with my mobile (Xiaomi Poco F3)
I'm using Google Chrome. In some websites, for example Iniciar sesión en tu cuenta — idealista i tried to login and i open Bitwarden but when complete the user/password, write my password in my username (POINT 1)
This is only in mobile and chrome, in desktop works perfectly. I tried with custom fields but i have the same problem.
POINT 2: I wanted to remove the suggestions like my username. I removed all of my google account, passwords, configs, clear cache, sync, but always remember access, in facebook for example i have 6 like that :(. Or if I can remove it, i would like the BITWARDEN ACCESS appear FIRST and not LAST. (POINT 3)
Also you can see a bar with a KEY (POINT 4). I don't know how can i remove it. Maybe my problems is not about Bitwarden, i don't know, but i hope can help me or find a solution.
Some apps on mobile doesn't detect fields or sometimes i don't have the option to open with Bitwarden. For example the point 3 you can see Bitwarden but sometimes doesn't appear

Repeat again, is only in MOBILE. Desktop works perfectly.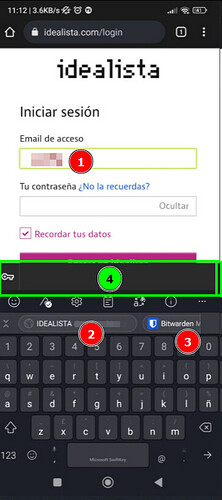 Thanks for read!!