When creating new entries, I always have to type in the same old email addresses and usernames that I use with almost every other site. It would be great if there was a way to speed up this process, for examples with an autocomplete functionality on the username that suggests commonly used usernames from your other entries.
What it could look like: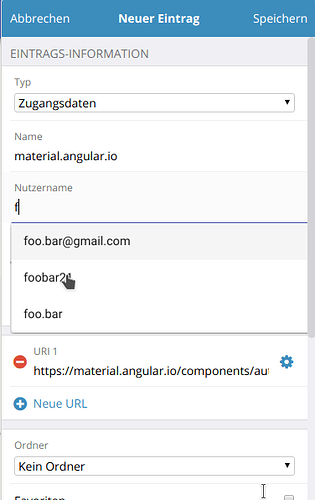 There are two ways I could see this working, either the data from the autocomplete comes from what you've used with other entries, or it only takes as suggestions the email addresses from your identities that you've created.
I would like to explore this idea as it is an annoyance for me and prevents me from quickly set up new entries with just a few mouse clicks (for password I always use the generator). As I'm a developer I'd like to implement this feature if other people would like something like this too, and if it's feasible (as in, it doesn't require a change in the API or would lead to secrecy concerns, for example).