Yesterday, I installed
Version 1.33.0
Shell 16.1.0
Renderer 96.0.4664.174
Node 16.9.1
Architecture x64
on this device:
|Processor|11th Gen Intel(R) Core™ i7-1165G7 @ 2.80GHz 2.80 GHz|
|Installed RAM|16,0 GB (15,7 GB usable)|
|Device ID|0D85E3D1-3895-43C0-AAFD-94F2F733A28D|
|Product ID|00328-00217-37249-AA957|
|System type|64-bit operating system, x64-based processor|
|Pen and touch|Pen and touch support with 10 touch points|
having this OS:
|Edition|Windows 11 Education|
|Version|21H2|
|Installed on|‎06/‎04/‎2022|
|OS build|22000.652|
|Experience|Windows Feature Experience Pack 1000.22000.652.0|
Since the new version two features fail which did run fine in previous versions.
On system startup, Bitwarden Desktop Application starts as usual in the systray, but it doesn't prompt to unlock using Windows Hello as it used to do.
Windows Edge Browser extension doesn't accept Windows Hello authentication anymore, claiming
"Browser integration is not enabled" in the Bitwarden Desktop Application, although it actually is!
Here are my (relevant) settings in the Bitwarden Desktop Application and the settings in the Windows Edge Browser extension: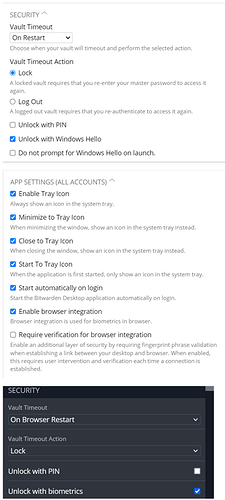 Funny detail:
In Firefox, the browser extension does accept the biometrics unlocking.
Of course, it's not a major defect, but I think it should be fixed an work as designed and expected.
Theo
PS: The community algorithm suggested SOLVED: Windows Hello in Desktop application not working - Ask the Bitwarden Community - Bitwarden Community Forums, but actually the solution in that topic does not solve both feature fails described in this topic