Hello dear Community
I don't know about you but I've been increasingly frustrated with the fact that anytime I want to change more than one item on my Organization's Collections, say move 50 items from one
to another I have to do it one at a time.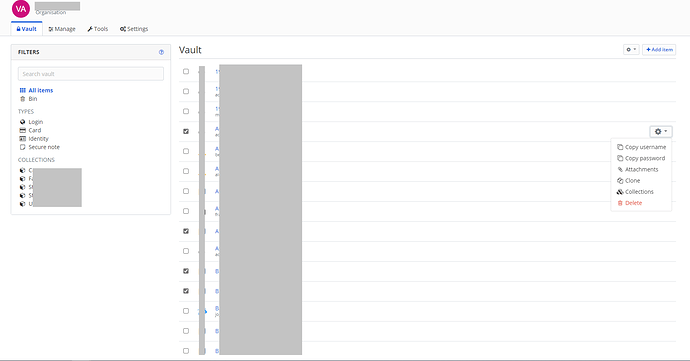 This feature would allow for so much time saving and I have a small Organization i can't imagine the pain it would be to have 10K items and needing to change 1000.
Currently the only action available is delete when multiple item are selected, if only one is selected I can clone or change Collections (besides deleting)
This is somewhat requested on Select Multiple entries and applicable actions - #14 by PawsMashingKeys but it's more aimed at the selection itself and then what to do with it and was requested in 2018, there was some acknowledge from the Devs apparently but I don't think its on the Road Map that was updated on June.
Thank you Bitwarden Team for being so open with feature requests and having an amazing service but I believe this is basic UX and shouldn't take that much effort to implement.