Hi all
Just wanted to ask when the app updates will be released. (Can't wait to update to Argon2
)
Documentation says apps are typically updated a week after the release.
Does that mean within a week or after a week at the earliest?
The update last month seemed to update clients about a week later. They need to wind their way through app store approvals.
desktop app already auto updated this evening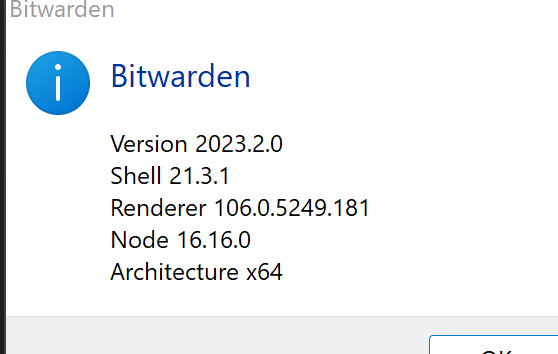 … extensions not yet here
That must be Windoze. Mac desktop still not updated.
Not if you're going through the app store but the standard installer is available now (Bitwarden-2023.2.0-universal.dmg)
Off topic: I honestly can't wait until the desktop app supports WebAuthn so Yubikeys with WebAuthn can be used. Very curious as to why it only supports Yubikey OTP.
the windows desktop app has worked fine with webauthn (even the previous 2023.1 did)
im still waiting on the updated extension and hoping the fix the chromium browser 110/webauthn bug … getting annoying having to use totp for past few days
I could be wrong but I think it's only the MacOS desktop application where WebAuthn doesn't work.
Does anyone know why only the MacOS desktop app cannot do WebAuthn where all other apps can?
I've talked to them about this. It's on the roadmap but not a priority according to them. (I asked them twice, first time a year ago and the second time in December, I received the same answer in both of them.)
So odd. I get that it is driven by the # of potential users. But, you would think they would prioritize feature parity across their clients.