Hi,
Thank you for a great app. I'm a new user of Bitwarden and this is my first post, so apologies in advance if I get anything wrong.
I've been using Roboform for years and to be honest it's been a solid password manager, but I felt it's time for a change. So I'm currently testing Bitwarden. I've ran into a few problems, but rather than posting them all at once, I want to tackle each problem individually.
When it comes to RF, folder nesting is very simple - same as how you would create folders in Windows Explorer etc. However, I'm finding Bitwarden very strange as it's repeating the same folder name multiple times and doesn't seem to show me an expandable tree-type of structure - i.e Subfolders within Parent folders…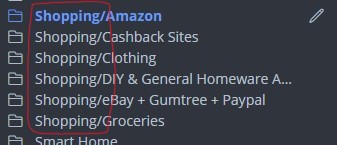 How do I create a clean nested folder structure where I can expand by clicking on a + sign like a tree?
Thanks in advance.
Bit4me