Has anyone figured out of how to select an item from a drop-down menu on a log-in page? Adding the custom field with the ID sap-language-dropdown does open this menu for a tiny moment. However, the desired item German DE is not selected.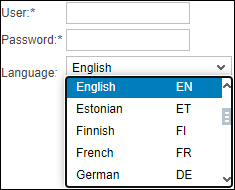 The values I have already tried are: D, d, DE, de, De, G, g, GERMAN, german, German
On a side note:
Bitwarden works great to fill in the forms with standard yadda yadda within SAP if you (have to) use the web-version.