Dear BW community,
like so many others I switched the family from LP to a (self hosted) BW family subscription and until now it worked without any issues.
Today I wanted to invite another family member and can no longer get the respective window to load. I tried different browsers, restarting the containers (it's on version 2032.2.0) and made sure we are within the seat limit.
All I see after clicking on "Invite member" is an empty window and a spinning wheel.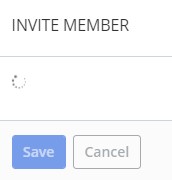 Could someone point me in the right direction to fix this issue?
Much appreciated