Support for uploading avatars for users/organizations would be great. Gravatar support would be great!
There is already a support for Gravatar, you can enable it in the settings in the web vault

Thanks, I now see that, and have enabled it. But I don't see an option to upload an avatar (like a logo) for the organization. That would be great.
Question on this, is there any reason why the avatar would not show on the top icon (rather it only shows when you drop down the user menu):

Gravatar support is for individuals (and that works). But for organisations it does not exist; Bitwarden just autogenerates something.
Feature name
Profile Pictures for individual Bitwarden Accounts and Organisations
Feature function
Ability to add a profile picture to a personal and business Bitwarden Account
Gives the vault some character and you can easily tell which account is which without looking at the email
2nd - Would love for this to be able to pull via Directory Connector as well!
Please add an option to set the profile picture.
For now i see the first letter of my name. Looks boring.
Where do i need an avatar?
-web version of bw;
-desktop version of bw;
-mobile app of bw;
-any authenticator which used icons from services. BW even here doesn't have an icon. (attached screenshots)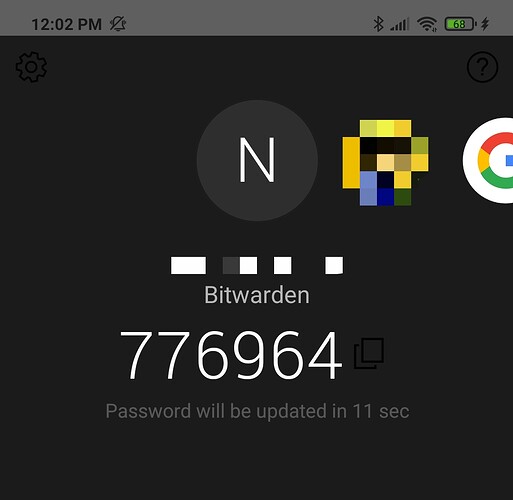 The unique profile pic helps to determine bw accs.
They recently pulled the Gravatar feature to enable us to chose a background color for our account profile soon.
See here:
Regardless of this, I'd still like to see an option to upload a custom avatar.
After the update, I noticed that the profile picture colour changed. I can't find a way to at least change it back, since I prefer the old one better.
Unrelated, but why is the email and login separated into two?
The team is working on a feature to allow for selection of profile colors. Email and login have been separated to allow for additional login capabilities such as the newly released mobile approval for web client login requests.
I appreciate your prompt response, I always wondered why sites would do that, since it seemed more inconvenient since I had to wait for the second page to load.
I'm grateful this was a just temporary issue, apologies for the trouble.
Please add back an option to upload a custom avatar or at least reintroduce Gravatar support! Changing colors is not always enough (think accessibility). Also, pulling an existing feature to replace it with a not-yet-released, less powerful feature is never a good option…
Thanks for the feedback, it has been passed along to the team!
Agreed, sad to hear you can no longer use Gravatar.
Please let us upload our own profile images for users, then also for organizations.
I would also love to see an option for profile picture upload… or well, bringing back the Gravatar setting. That was a nice way to not even have to worry about uploading pictures.
I also would love the ability to either upload a profile picture or have Gravatar support back
Thanks for the feedback all, the team is about to release a color picking funtionality to indicate accounts and will continue to review feedback.
Please don't turn the UI into MySpace. Bitwarden is clean and professional and consistently branded. Customers will think they know how to exercise good design choices but, like MySpace, most can't and the brand ultimately suffers.
Hey @222 rest assured, nothing is implemented hastily