Support for uploading avatars for users/organizations would be great. Gravatar support would be great!
There is already a support for Gravatar, you can enable it in the settings in the web vault

Thanks, I now see that, and have enabled it. But I don't see an option to upload an avatar (like a logo) for the organization. That would be great.
Question on this, is there any reason why the avatar would not show on the top icon (rather it only shows when you drop down the user menu):

Gravatar support is for individuals (and that works). But for organisations it does not exist; Bitwarden just autogenerates something.
Feature name
Profile Pictures for individual Bitwarden Accounts and Organisations
Feature function
Ability to add a profile picture to a personal and business Bitwarden Account
Gives the vault some character and you can easily tell which account is which without looking at the email
2nd - Would love for this to be able to pull via Directory Connector as well!
Please add an option to set the profile picture.
For now i see the first letter of my name. Looks boring.
Where do i need an avatar?
-web version of bw;
-desktop version of bw;
-mobile app of bw;
-any authenticator which used icons from services. BW even here doesn't have an icon. (attached screenshots)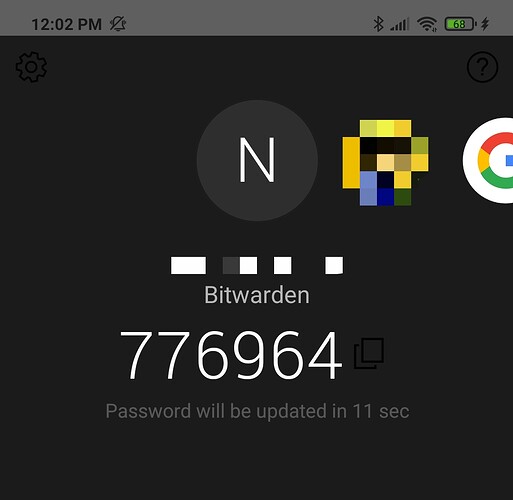 The unique profile pic helps to determine bw accs.