I am using Bitwarden within Firefox on a Mac. There are two options in the settings:
Unlock with biometrics
Ask for biometrics on launch
I have searched these forums and the official documentation and can not find any explanation of what the expected behavior is for these settings.
I understand that Bitwarden does not support biometrics to work directly in the browser (seems like other password managers do) and requires the desktop app to be running and the only reason I've installed the desktop app is for this feature. I have no other desire or need for the desktop app. With both options enabled, I would expect that the desktop app is opened when it needs my biometrics and then quit once it's been completed. What actually happens is my macOS dock shows as if the app is about to launch but is immediately quits before the icon even fully displays. The extension then complains with an error:
The Bitwarden desktop application needs to be started before unlock with biometrics can be used.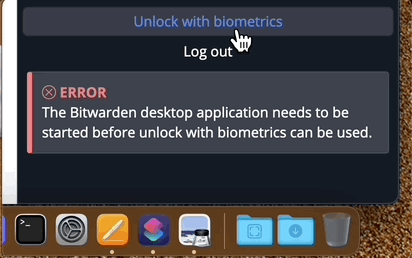 Is this a known bug or is there an issue with my system? Without updated documentation, it's hard to understand what the correct or expected behavior for this feature is.