Could you tell us what item types are being added?

If this is still in early development, how could they possibly confirm this, @Korat?
sorry I was just curious

WEB SITE LINKS SAVING. Nowdays we visit so many websites to read and forgot too. Usually Passwords are related to websites. Not all websites have password request. Saving websites links are very useful. Please consider adding this too.
I'd really love to use additional items.
I've always wished to have a Software Licence Key Item
(Developer, Software, Version Number, Key, Activation Date, Expiring Date etc.)
and a contact item to use Bitwarden as address book.
Less fields than the identidy item but importable from *.contact *.vcf *. files or via scanning a QR code.
In Addition to that my insurance company sent me an digital insurance card today to add to a digital wallet via QR code (my insurance company recommendet the app "PassWallet" from Google Play Store.
My first thought was: It would be nice to considure Bitwarden as this digital wallet.
This cards have to be importable via scanning QR code.
I've uploaded a screenshot of this PassWallet entry in Google Play, here is the link: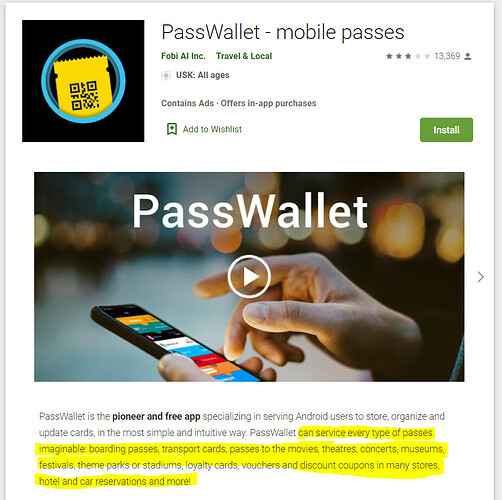 Hi all!
I find this idea, proposal interesting.
I hope to help the Bitwarden company and community in some way
As this post talks about adding new types defined in Bitwarden, I added the type here… bookmark - here : Bookmarks type
One thing that's interesting is that this type of item set as a bookmark - could help this topic: Bitwarden Bookmark Sync too - which can increase bitwarden's customer base - most people have a lot of information about the sites they need to access and this mixes with the sites they need to monitor daily with login and password - Having a password manager like Bitwarden is a great way to make the user's life easier - but giving the user the chance to manage their information based on urls does greatly improve the user's life too.
Notes
There is even another type of item to be added - As in the case of a bookmark which is a url item type.
It would be interesting to have the item type as url - to remember the website we are going to access or the which is website most common that we need to access
Usually these sites we don't have a record - but… serve as a reminder - part of the password manager is to manage passwords, but also to manage type the of information too
There are no new item types defined at the moment, but I hope it helps in some way
I have the same question about year later…
These types are available only on Premise or something?
I tried to found more types, but without results. I have premium account…
Hey @iAmMember additional item types are on the roadmap, stay tuned!
Hey @bw-admin thanks for ansawer!
Looking forward! Additional item types are for me now the most needful option in Bitwarden

so i will waiting impatient for it

I paid for a year of a Bitwarden family account to bake it off against my 1Password. Let me preface, I strongly, strongly dislike 1Password: Their customer service is unfriendly and arrogant. The pricing is borderline predatory, and how they've treated customers who purchased perpetual licenses is abhorrent.
After coming across this thread, and seeing a request that is…
– Four years old, to design, implement and deploy new database models plus the necessary front-end refactor work is confusing. Looking at Bitwarden's GitHub release cadence, there are consistent patch releases, and semi-regular dot releases. I understand as a small company that scope is hard to manage, but with an open source community that is eager to contribute, why not encourage the community to contribute to larger changes like this? I have a blanket assumption in my head the average BW user is more technically adept than most, understands OSS, and would probably be happy to contribute on larger workstreams like this request, if some direction was given from BW on the help it needs/wants to get these requests over the finish line.
– Indicative of a pattern that plainly ignores community feedback (Feature Requests - Bitwarden Community Forums). As an outsider, it feels like a lack of customer empathy and lack of resourcing to working on the core product could be an issue. (The GitHub releases page shows many enterprise and saas related functionality being implemented for the server repo).
…I'm going to very sadly stick with 1Password when it comes time to renew my BW or 1P accounts. I love Open Source software. Personally, OSS is what pays my salary, so I feel uncomfortable making this pointed criticism towards this product that is well-intentioned, but just doesn't deliver on basic needs. I'd pay 2x the cost of my 1P subscription to move to an OSS product that has a decent saas offering. If I can't use the product as myself, and others want to use this product, then I'm going to move away, and stop patiently waiting and hoping with fingers crossed that the folks who decide the roadmap will eventually organize work towards what customers are asking for.
I hear you @classicwebdog, but I do think it is unfair to directly compare a $7 Billion dollar company with literally hundreds on their development team to Bitwarden, the new guy on the block, who is a small startup with a dozen or two developers and has only been around for a handful of years. To suggest that Bitwarden ignores their customer base is grossly misguided, in my opinion. They just haven't built up their company yet, so you really can't expect them to be as agile or responsive as one of the huge and established players like 1Password. But they are doing more and more every month. I'm very happy about that, and despite their small size, I think they offer a better product, a better service, and better support than 1Password, which I used before Bitwarden.
And PS: additional item types are in the works right now and coming soon. See the BW roadmap.
Thanks for the feedback @classicwebdog, while additional item types is on the current roadmap, I would also invite you to come and chat with us on June 23rd for the Bitwarden Community Forum.
We will be covering what goes into making the Bitwarden roadmap, but it is also an open forum to hear from you, so bring any questions and concerns to chat about with fellow users and the Bitwarden team.
Hello,
I'm also glad to hear, that more item types are on the roadmap. I've migrated from 1Password to Enpass and now to Bitwarden (Premium + organisation for family sharing and files). At the moment, it feels a bit less comfortable than Enpass, because I miss also types, for my licenses, bank accounts, Linux logins (like passphrases for encrypted disks) etc. pp. I have to put most of them into "Secure notes" …
cu denny
It is just in the past year or two that Bitwarden has been in a position to be able to add additional DevOps. And honestly, the developement cycles and feature additions in that time have been staggeringly increased! Just look back at the release notes and compare that to the GitHub project commits (for server) prior to 1-2 years ago.
Prior to that it was literally one guy (Kyle Spearrin) and whatever the community decided to pitch in on. It is absolutely wonderful that Bitwarden has grown into a status of "seems just like 1Password as a company", but the fact is that 1Password (Initial release June 18, 2006) has been in development for a lot longer than Bitwarden (Initial release August 10, 2016) and has had a huge staff for DevOps for many many years.
Bitwarden is playing catch-up on many features and has to prioritize things based on many factors. They have already caught up in many ways, which is why they seem like they are in the same class as the big established players already. Give em some time and latitude and I imagine they will catch up and surpass on other features as well.
Edit: Typos and additional context.
I like this idea. Personally, I'd be happy with being able to create my own templates with associated fields. I see this as custom Secure Note records with custom names and custom fields. I would like to see the field types expanded:
string, numeric, hidden, date/time, long text
I can't come over to this until software licenses is a thing (category)
I love the open source nature of this but this is a deal breaker for me and my situation.
I will be back when it has this feature.
Thanks for the feedback @John_Swihart! Additional item types is on the roadmap (including software licences), and eventually customizable vault item templates. If you are a developer, you might also be interested in joining the waitlist for the Secrets Manager.
Great to hear that this is being worked on! I do wish to know if there is work being done on allowing users to upload standalone files without attaching them. I'd love to be able to upload certain documents to my vault, but some of the files I'd upload don't really fit with any of my password entries. If this sort of feature existed, I would seriously consider buying the premium version of Bitwarden.
Thanks for linking that. I couldn't find any open issues like that myself.