I'm new to Bitwarden and want to unlock my browser extension via PIN (Brave browser). I have yet to ever be asked to unlock with a PIN, however. I only ever see it asking for the master password (followed by 2FA).
I went to the extension's settings and setup up the extension like this: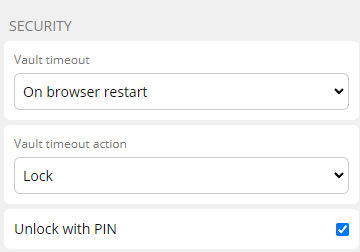 What did I do wrong or am I missing? BTW, I'm using Windows 10, if that matters.
I saw someone else had this problem on a Mac and rebooting solved the problem. I've rebooted and still have the same problem.
TIA