Hi,
discussion has been ongoing about other key derivation functions being added to Bitwarden.
The current KDF, PBKDF2 uses little to no memory, and thus scales very well on GPUs which have a comparatively low amount of memory per core. For long, high entropy, master passwords this is not an issue, but these days better hash functions, that limit this attack, are available. One suggestion has been to add support for Argon2, though the Javascript ecosystem support is lacking here. While there is a WASM implementation, it is unaudited, and might not work on some platforms. Another KDF that limits the amount of scalability through a large internal state is scrypt. For scrypt there are audited, and fuzzed libraries such as noble-hashes.
I have created basic scrypt support for Bitwarden. Instead of KDF iterations, there is a "Work Factor" which scales linearly with memory and compute. It has to be a power of 2, and thus I made the user configurable work factor a drop down selection.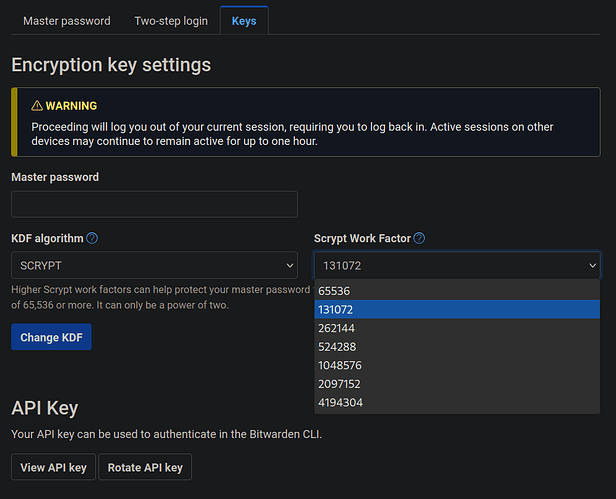 Additionally, there are some other configurable factors for scrypt, which I did not make user-configurable, but set statically according to a post from the guy in charge of cryptography for Golang at google.
The code is on this branch. Still missing are: unit tests and an implementation for the mobile clients. Before writing the mobile client implementation, I wanted to get feedback on the current implementation