…by introducing a sever stored key part. The whole idea is to let the sever check the 5 tries limit and deleting it's part of the encryption key if all tries where used or a timeout (e.g. 1 day) is reached.
I'm currently not a bitwarden user, but investigating if I want to change. I came a lot of posts discussing the problem that a pin encrypted master key could be extracted on the client side and be brute forced (due to low entropy). Then an idea came to my mind: why not introduce a server side component? If this idea was already discussed somewhere where I didn't find it - I'm sorry in advance.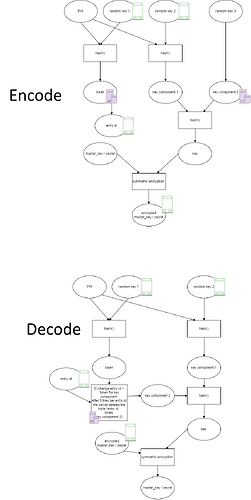 Sorry for the quality - I had to put the two pictures together (as I'm not allowed to post more than one

)
The icons symbolize where the the keys are stored (client or server).
Advantages:
brutforce the encrypted master key is not longer possible (without having control over the server)
the server will only provide is key-part if the client can prove it is knowing the pin
the server does not get any information about the master-key nor the pin
Disadvantages:
the server needs to be reachable for pin unlock (allow the user to turn this off if he is offline often)
more complex logic required
What do you thing about this idea?