I am a LastPass refugee and Bitwarden newbie.

I'm converting a family LP subscription to a self-hosted Bitwarden environment running in an Ubuntu VM behind HAProxy using the standard Docker deployment.
The virtualization environment is somewhat constrained and it's not my favorite hypervisor (QEMU). So, I have some performance tuning questions on which I would appreciate any feedback or wisdom the community cares to provide.
Assume no premium features. Do I need to run these containers: bitwarden/sso and bitwarden/attachments? Are there others that I might be able to shed?
If I don't need them, is docker-compose.override.yml the right place to set restart: no?
The doc recommends 4GB when using Ubuntu. As you can see in the image below, an 8GB VM with no Bitwarden users active and one account has consumed ~7GB. I've noticed that even at 8GB when cold starting SQL Server grabs a ton of memory. One would expect the system to "setttle" a bit after that. But as this shows after running for over 24 hours, that hasn't happened. What is a realistic memory allocation for a lightly-used (three or four account) deployment?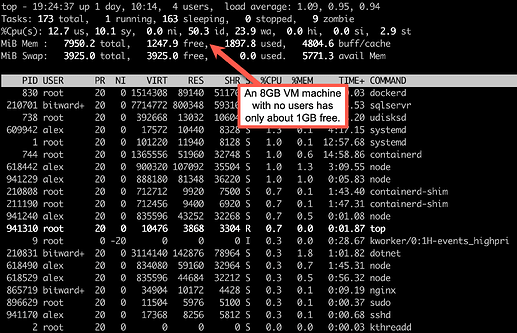 Are there any "knobs" one can play with to try to improve performance?
Thanks.