I have a yubikey 5c nfc.
Set bitwarden app to log out after 5 minutes, and enabled FaceID for unlock
Log into bitwarden app, prompts for login and yubikey. All work
Don't log out
Within 5 minutes, open another app, when iOS prompts for password, click "passwords", launches bitwarden.
Here's where the problems occur.
Bitwarden is asking me to log in again.
After providing email and password, prompts for yubikey NEO and doesn't recognize my 5c NFC. See screenshot.
I am unable to log into the app this route and must open bitwarden app, copy credentials and paste into the other app. If it's been longer than 5 minutes I have to log in and use yubikey.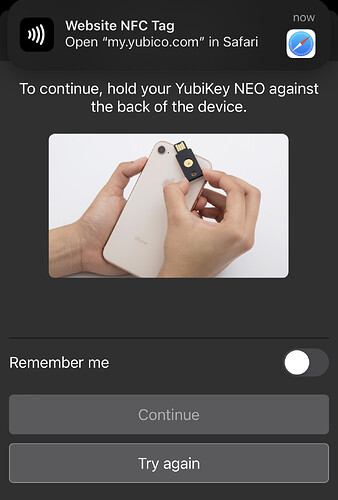 What I feel should happen is FaceID should unlock bitwarden if under 5 minutes or if after the login process should allow my 5c nfc to unlock.
Thanks