Note: Your question may already be answered in the Bitwarden Help Center.
Just a reminder - All Enterprise, Teams, Families, and Premium subscribers receive priority support at Get in Touch | Bitwarden

Hello,
I am trying to import from LastPass by uploading a CSV file or copying and pasting the data. Now, I am seeing the following error every time.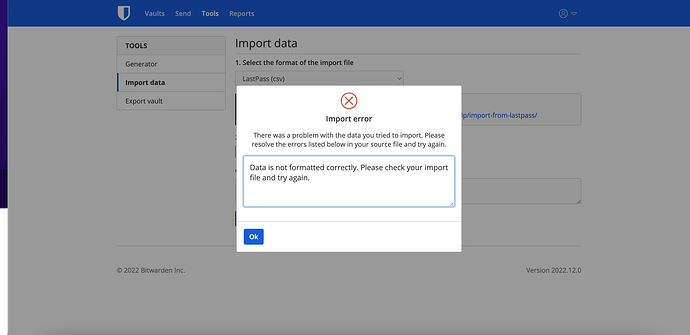 Now, I searched online and could not find any help to resolve this except someone pointed out that remove XML tags from the data. I did not see any XML tags, so not sure.
I even tried to import one record by copying and pasting and still saw the same error. Here is the header of the CSV file:
url,username,password,totp,extra,name,grouping,fav
Does anyone know what to do?