Hi,
I have a selfhosted Bitwarden installation running in a docker container on my NAS (VaultWarden, previously BitWarden_RS).
The docker installation itself is not using any SSL certificates or configuration, but I am using my NAS's reverse proxy to be able to access it over SSL, which uses my NAS's certificates from Let's Encrypt.
I have 2 phones, one is a Realme X50 Pro, and the app and web-access is working flawlessly there.
The second phone is an old Samsung Galaxy S8 (Android 9), and here the app refuses to login with an error "Handshake Failed", while using the same URL on browser on that device doesn't give any certificate errors whatsoever.
Both are using Bitwarden 2.15.0.
The certificate is managed by my NAS itself (Synology):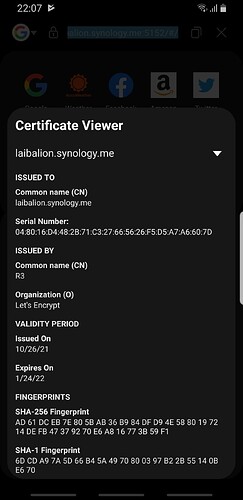 Ofcourse, when using non-HTTPS connection, it works but it won't be accessible from the internet that way (my router doesn't allow it, and that would be a very bad idea anyway)
I don't understand why the app refuses to login on my S8 on HTTPS, but it works fine on web-access and on my other android device.
Any help is appreciated.