Hi everyone
I'm looking to migrate over from Lastpass with the announcement but failing at the first hurdle to import my data.
I've exported from Lastpass following the instructions https://help.bitwarden.com/article/import-from-lastpass/ but get an error when importing: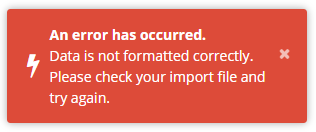 I've tried with both the .csv I've saved and by "copy/paste the import file contents" and receive the same error.
Obviously it's something I must be doing wrong when creating the .csv but I've followed all the instructions. To create the .csv I'm copying and pasting the contents from the Lastpass export link into an excel sheet (pasting into cell A1) and saving as .csv (comma delimited). The format is all data in column A in separate rows. Cell A1 is url,username,password,totp,extra,name,grouping,fav
and the data looks to be correct.
Thanks
Catherine