Folders option disappeared overnight! Did the update take them away?
I still have my folders.


Can you mention which client you are using and perhaps post a screenshot.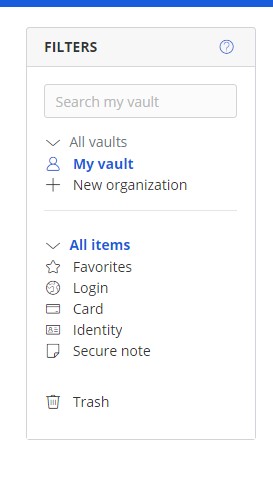 I'm not sure what client means. System is Windows 10, browser Google Chrome, if that helps.
@Ewilburn2019 Welcome to the forum!
"Client" means the program or app that you are using to interact with your Bitwarden vault. In your case, you are using the "Web Vault" client.
Are your vault items (logins, etc.) still there?
Did you ever set up more than one Bitwarden account, and if so, is it possible that you have logged in with a different email address than the one you normally use?
Thank you. Yes, thankfully all logins are still there. I only have one account.
@DoctorB I still have all my folders in Chrome also.
@Ewilburn2019 Did you happen to be using your Web Vault between 9pm and 11pm New York time (EST) last night? Also, can you try the Windows Desktop App or a different browser and see if you the folders are still missing?
@Ewilburn2019 I see you have clicked on "My Vault". Can you instead click on "All Vaults".
With my account in the web vault, the folders only show in "All Vaults".
This did work when I refreshed. Thank you all.