I am a new Premium BW Individual user and I was trying out the new features. I was testing out the 'Send File' and I submitted a file and everything seemed fine. This is the information on the file from the Firefox BW addon 'Send File' Edit screen: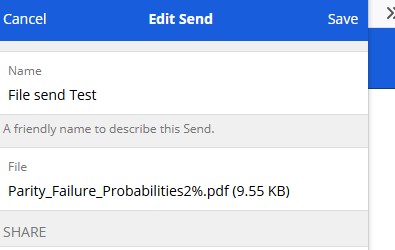 I then got the link that one would send off to a person to allow them to download the file. I started out trying it in my default browser- Firefox. I was puzzled by the results so I tied it using Chrome and MS Echo and the embedded screen capture shows the names of the downloaded file.

I have no explanation as to why there is no file name (only the extension) for Firefox. (This might require some investigation on my part.) Now, notice the file names for both Chrome and MS Echo downloads and compare them to the file name of the file that I uploaded!
This presents a real serious issue that any security conscience person would question. I tell the recipient to expect a file with a given name and he/she gets one with a completely different name. Any security expert would tell them never to open the file!
I feel that this is a serious flaw that needs to be addressed. Even if I did something wrong in creating the send file process, it should have been flagged and notice given to me about this situation.
PS: I have looked at all of the files and each one is the correct file.
Note: Your question may already be answered in the Bitwarden Help Center.