Premium Annual Subscription
2 Workstations and 1 Phone
If I open the vault in a tab I can use the Phone App to log in or unlock or use the Master PWD combined with my YUBIKEY USB Fob.
Right now, I am logged into my vault as a browser tab, but when I right mouse-click to autofill it says I have to unlock. I click on unlock, and it launched a new browser tab, I unlock again, but the autofill still says I need to unlock.
Then I notice that despite unlocking the vault twice now in a browser tab, the Bitwarden plugin still shows as Btwarden as locked.
The Bitwarden plugin only offers me the option of using the Master PWD to unlock and that doesn't work doesn't work, the plugin doesn't let me use any other verification.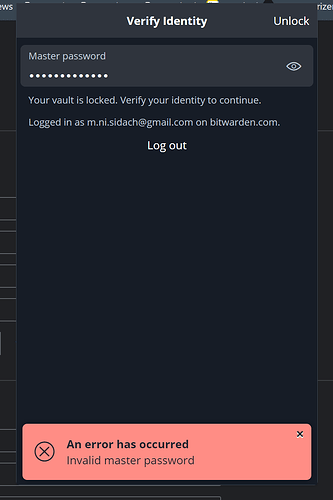 Now something else disturbing is that when I tried to update my Master PWD, I get an Error message that the Old Master PWD that I just used to log in, is wrong. That makes absolutely no sense to me at all.