Hello,
I just did a privacy inspection test using blacklight and I was surprised to find that Bitwarden failed blacklight test completely. In fact, the astonishing part is it not just failed but I'm lost at looking at the number of ad trackers and third-party cookies are on this site. I'm disheartened to know this but to top it all, Bitwarden is not using open source analytics and instead using google analytics.
My main concern is, I love Bitwarden and I trust it very much and so I believe that a million more will share similar opinion about Bitwarden like me but having 7 or less ad trackers is itself not a good sign and here I see 20 trackers and also having 3 or less third-party cookies is not good either and here we have 30 third-party cookies

I mean, why?? I didn't expect Bitwarden to perform this poorly in a privacy test when Bitwarden is one of the most trusted and preferred one that too dealing with password management.
This must be fixed ASAP for the greater good. This is my humble opinion and I'm sure the Bitwarden community also will agree with me on this.
For reference, please find the screenshot taken from the test attached for details.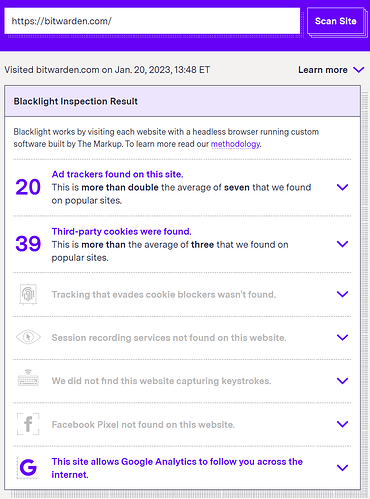 From a very concerned community member & Bitwarden user,
VVR