I've been using Bitwarden for the past month (new to the platform) and had Edge Browser (Version 89.0.774.63) configured with biometrics.
All well and good.
Recently biometrics stopped working.
Browser add on is Version: 1.49.0, and desktop build is v11.3.0, if I'm reading correctly.
When launching the 'Unlock with Biometrics' I get the following message;
Start the bitwarden desktop application.
The bitwarden desktop application needs to be started before this function can be used.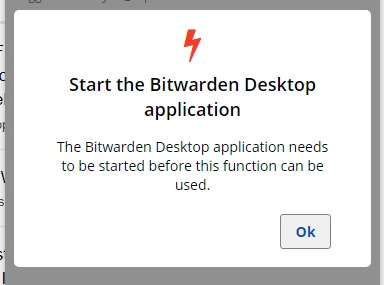 The desktop client is running and was previously configured. Unfortunately, attempting to use 'Unlock with Windows Hello' button on the app ends up with the app itself hanging.
If I logon with the master password, the File menu has no options - as below.
I have removed, restarted, reinstalled.
I'm aware there is a problem with biometrics on Firefox in Mac Os, which seems similar, and the workaround is to create a folder. However, its not clear whether this applies to windows as well, and if so, what the appropriate path would be on Windows. Also behavior seems slightly different to this.
This was all configured and working previously. Seems to have failed recently.
Any thoughts?