is this really not implemented yet? I don't see it in the roadmap, why?
Hey @Override7751 thanks for checking in, this one is on the 2022 roadmap under 'active research'. The team is continuing to research the desktop auto-type functionality with a focus on cross platform compatibility.
@dwbit Can your team share the research results and current problems with implementation? Community has developers, that can help with solving problems!
Also you can lookup other opensource apps for example of implementation, like keepass.
And the question for community:does anyone know a working implementation of autotype functionality in any Electron app?
Yes, but it is written in Python (Bitwarden is in js/Electron) and how about support for macos?
@Murz, are you asking because you want code to be able to add to Bitwarden for a pull-request, or because you want to be able to autotype into electron-based software? This much specification is necessary.
I'm asking because want to find helpers for Bitwarden developers with implementation.
This feature is really necessary for various reasons. I want to add that I would also like the option to auto-type the selected entry. That's different from global auto-type where Bitwarden needs to "guess" which application is running. I want to select the entry manually and let Bitwarden send the keys to whatever input is selected. This is very useful for remote desktop sessions.
Add my name to the list of users who really need auto-fill to work with non-browser apps.
+1 from my side. Is there even one password manager that has working autotype under Linux with Wayland?
Do you ask because some work with X but not Wayland?
@BEEDELLROKEJULIANLOC yep. KeepassXC and KeeWeb both work quite well under X. Maybe even others/more, that I don't know about. I've pushed and pushed myself from using Wayland mainly because of autotype

Just switched from Firefox Lockwise + KeePassXC setup to Bitwarden Premium, but I'm very disappointed after discovering there's no auto-type feature and may have to switch back.
Okay let's not be that harsh, as you said, the devs did amazing work with bitwarden as a whole, no need to insult. But, for my personal use at least, this is the most needed missing feature by far. The only one to make bitwarden tick all the boxes tbh. Seeing it having such low priority over such a long time can be frustrating I guess
I just had a meeting with our support team and this feature is the current dealbreaker for us.
We really want to switch to Bitwarden Business, preferably with the self-hosted option, but a good auto-type functionality is an absolute must.
We work with RDP, TeamViewer, SSH and in 9/10 cases, copy+pasting simply does not work as it has been stated by others in this thread.
We need an auto-type feature WITH the option to set typing delay etc… basically just like in KeePass / KeePassXC.
Please make this feature a priority! It's the top 2 upvoted feature!
As soon as it's done, we'll change to Bitwarden.
Two years later, rip.
@dwbit mentioned a few times that the feature is in "research" and that it's on the road map, but I can't figure out which thing on the roadmap image is supposed to be "autotype".
…Maybe "desktop app upgrades", if I'm being… charitable?
TGreer is the wrong person to address as some months ago he unfortunately left Bitwarden.
You didn't look very hard. Literally, it's in the second line under the title which says: "Ongoing Research: …Auto-type/Autofill for logging into other desktop apps"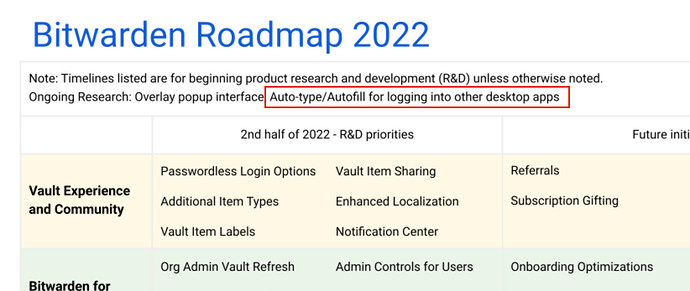 Lack of this makes desktop Bitwarden kind of… pointless? I'm wondering how many people:
a) use Bitwarden browser without Bitwarden desktop
b) use both
c) use only Bitwarden desktop
I'm definitely in the a) group as I launched it only twice. Both times were to set it up on new machines just in case. All other usages were in Chrome/Opera when it comes to PC because why not, I have browser open at all times anyways.
So I'm also surprised it wasn't really prioritized looking at the history of this thread.