Hi,
I'm totally new with all this server stuff and especially with Docker
I have set up an Alpine VM on ESXi 7 and installed Bitwarden on it.
I can log in to Bitwarden with the local IP of the VM.
WORX
Now I have pointed a mydomain.ddns.net to
xyz.myfritz.net ( My.Fritz Domain) on my FritzBox (Router)
nslookup says that it arrives here
From the FritzBox it is directed to my
Nginx Reverse Manager, then to
IP of the VM with HTTPS:
On the NRM, I have successfully created an SSL certificate.
Following This the domain comes correctly to my NRM
but when i log in with domain name:
# 502 Bad Gateway
As I was never before faced with this Error, I would kindly ask here to give me advice how to solve this Pls.
What have I done wrong in these settings: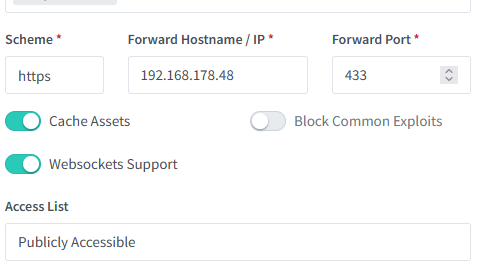 Needs the Docker another Port?
Many THX for instructions