Hello, happy Bitwarden Premium customer here.
I've noticed that at the moment Bitwarden does not visually indicate that a TOTP code is about to expire in the main overview (as opposed to the detail view which shows a countdown). Because of this it's possible that a code I copied using the "Copy Verification Code" button actually expired within the short amount of time it took me to move my cursor from Bitwarden to the TOTP form. It's a first-world-problem, I know, but I think it would be helpful to indicate that the TOTP code will expire in within, let's say, 5 seconds. For example by setting the CSS fill property to red.
I am of course talking about the most right button here.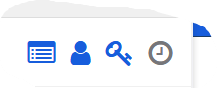 Thanks for taking the time to read this feature request!