Currently, when adding/inviting a new account to the bitwarden organisation, one gets a screen that shows a few settings, and in the end it asks if this users should have access to all collections (default setting) or only to specific collections.
When you leave the default to "user can see and edit all items" … the group policy settings are completely ignored, and the user gets to see the full collection. If you select the other option, the group policy is bypassed and the access control takes precedence. If you want groups to work, you need to manually select the second option and then select no collections.
This is rather confusing since the preferred way to organize password access is through groups.
Wouldn't it make more sense to list the groups in this initial form?
Currently this is the workflow we have to use if we want to use groups:
invite the user (ok) and change the access control setting to "This user only has access to selected collections" … but select none.
once the user is accepted, add it to the relevant groups. (=different screen, click on the cog next to the user name)
I would very much prefer the display to look more like this: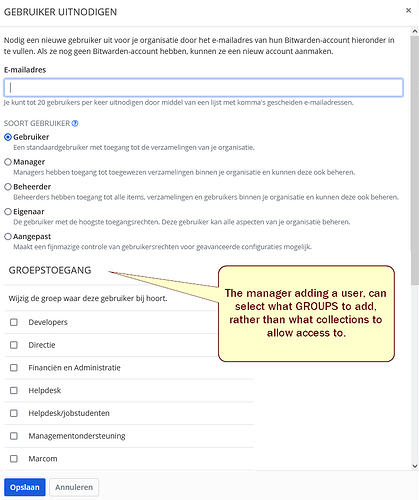 (my apologies - I have no idea how I could supply an English screenshot)