Add me as another +1 for this feature! This is something I really miss from 1Password
+1 on this. I migrated from 1password, and I sorely miss something as basic as drag and drop.
I whould love to have this feature too +1
Bump
I would like to see this feature added. It's very cumbersome to edit each login individually when organizing 1000+ entries.
Same here. The lack of an easy way to add items to a collection is pretty much the only reason why I don't use collections at all.
very surprising that such a simple feature is not already available

+1 - bitwarden, is this being considered?
Considering the switch from lastpass and this is the one item so far that is keeping me from buying.
I hope this is still be considering. Seeing that this post was made two years ago and the feature still hasn't been implemented, only leaves me to think that it's been declined or something came up. I hope not & don't wanna jump to conclusions, hope this feature get's implemented in the near future

+1 for dragging records into and between folders. This would reduce the nuisance of not being able to specify a folder for imports.
Adding to the list as well, as this should be a standard feature for any password client. This makes the ability to organize your folder much faster.
This is very essential for users who wants to do everything fast and imports from a password manager without folders. I miss it very badly from Lastpass.
+1, would really like this feature. Organizing logins at the moment can be a bit of a pain.
It would be a nice addition, but I haven't experienced any of the aforementioned difficulties personally (200+ passwords). You can select multiple passwords and move to a folder, unless I'm misunderstanding the issue.
+1, this feature would be really a time savior
Applicable to all native apps as well such as windows.
Yes, please. I moved from 1Password, and they had a large number of custom card categories that I am replicating using folders; however, there is no easy way to assign an entry to a folder without going into edit mode on the entry itself.

Ah ha! You can do a check and move on multiples in the browser. That's something. Still would like drag & drop.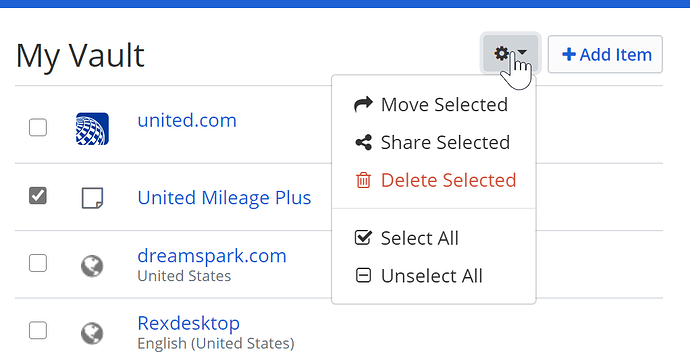 I'm leaving Dashlane behind. Tested LastPass and now BitWarden based on a recommendation. Looks great!
Adding my 2 cents that is a common useful capability that I would use daily. Y'all seem like pretty conscientious developers, I'm surprise this is not implemented!