Feature name:
Disable "Auto-fill On Page Load" for specific logins
Feature Description
As requested in this feature request thread: Disable "Autofill On Page Load" option for specific logins.
This will add a checkbox on login items allowing the user to disable that login from auto-filling on page load. Suggested UI mockup: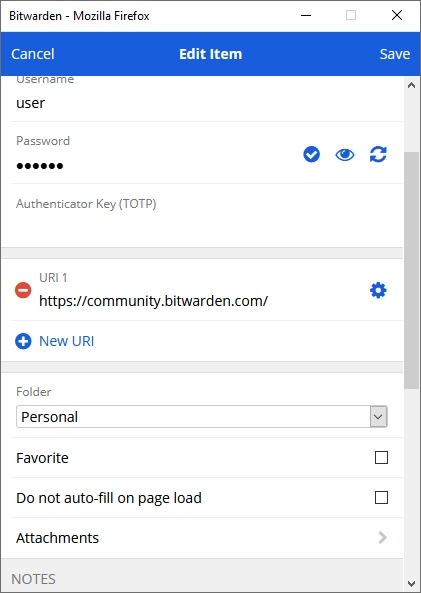 This will also allow users to choose which item auto-fills on page load (by disabling all competing logins), as requested here: Autofill on Page Load for Specific Logins.
Clients / Repos Affected:
Server
jslib
Browser
help
Specific feedback wanted
To store this preference for each login, I propose to add a new property to the login class, called disableAutofill. This change will need to be made to jslib and Server repos. I expect this will need to be made to all permutations of that class, e.g. api, data, domain, request and response classes. Anything I'm missing here?

I don't think we need to display this option in the other clients, because they don't have autofill functionality and it just wouldn't make sense in that context. By default, I think they will ignore this new feature because they won't know to parse and/or display the new property. Does anyone see any issues here?

Is there a risk that users see the "do not auto-fill on page load" tickbox and assume that auto-fill is therefore enabled by default for all items? (Rather than first having to enable it globally, and then disable it on a per-item basis.) If so, is there any UX improvement that could help with this?
Timeline to completion (estimate):
ETA: Q4/2020