@kspearrin How doable it would be to allow user to set # colours instead? I'm not talking about full fancy CSS theming, just allowing us to change existing colours to our own, where user just provided colour hex. I didn't exactly check, but it seem that bitwarden uses 10-20 colours at most, so making them a variable would give all users option to recolour bitwarden to their choice, whether it's dark, green or pink.

Excellent one. My votes are gone so, as I LOVE dark themes, I have to +1 this manually.
Seriously, this is really really great one, I'm eager for this!

EDIT: Just noticed the pinned post on the main page, and it talks about voting. I'll take a better look on it.
I don't mean to bump an older thread but even allowing a location for CSS rules to be loaded (at the end of the html on the web app) would be pretty slick. Plus as an example "ProtonMail" does this with a custom setting for CSS but it states that make sure its from a trusted source. And personally I love the Darker/Night Themes that some applications come with native (Easier on the eyes is a huge benefit IMO). So +1 from me my guy

.
Started working on a Dark theme in the desktop app. Here's what we have so far: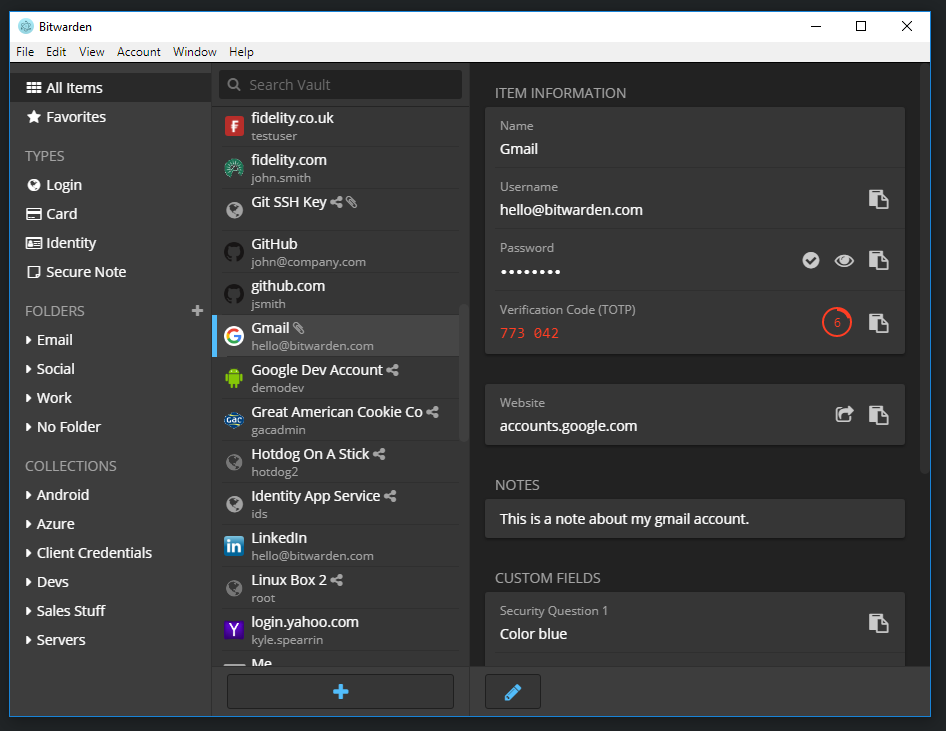 Dark theme is now available on Desktop and Browser extensions.
Awesome! Is the dark theme also planned for the mobile app and web vault?
Is the dark theme also available on Mac? I'm not seeing an update in the App store and the .dmg here is still the same version.
1.3.0 is still in review with Apple. it will eventually be available.
Thanks a lot for this, Kyle. ur da best!

PS: This thread is near to be closed.
Closing this since dark themes are available. A new thread can be opened for a request on mobile if desired.